JEA

NNE ADÈLE BERNARD
Praised for her signature style of simple dresses, as early as 1912 Jeanne was making headlines in the trade press as an arbiter of style.
After training as a French literature teacher, at the age of 39 Jeanne Adèle Bernard found her true vocation in fashion. In 1909 she married Emile Sacerdote and opened her first boutique, as Jenny Sacerdote, in Paris.
She firmly believed that "clothes are made to be worn, not kept under glass."
Her favourite colour was deep pink.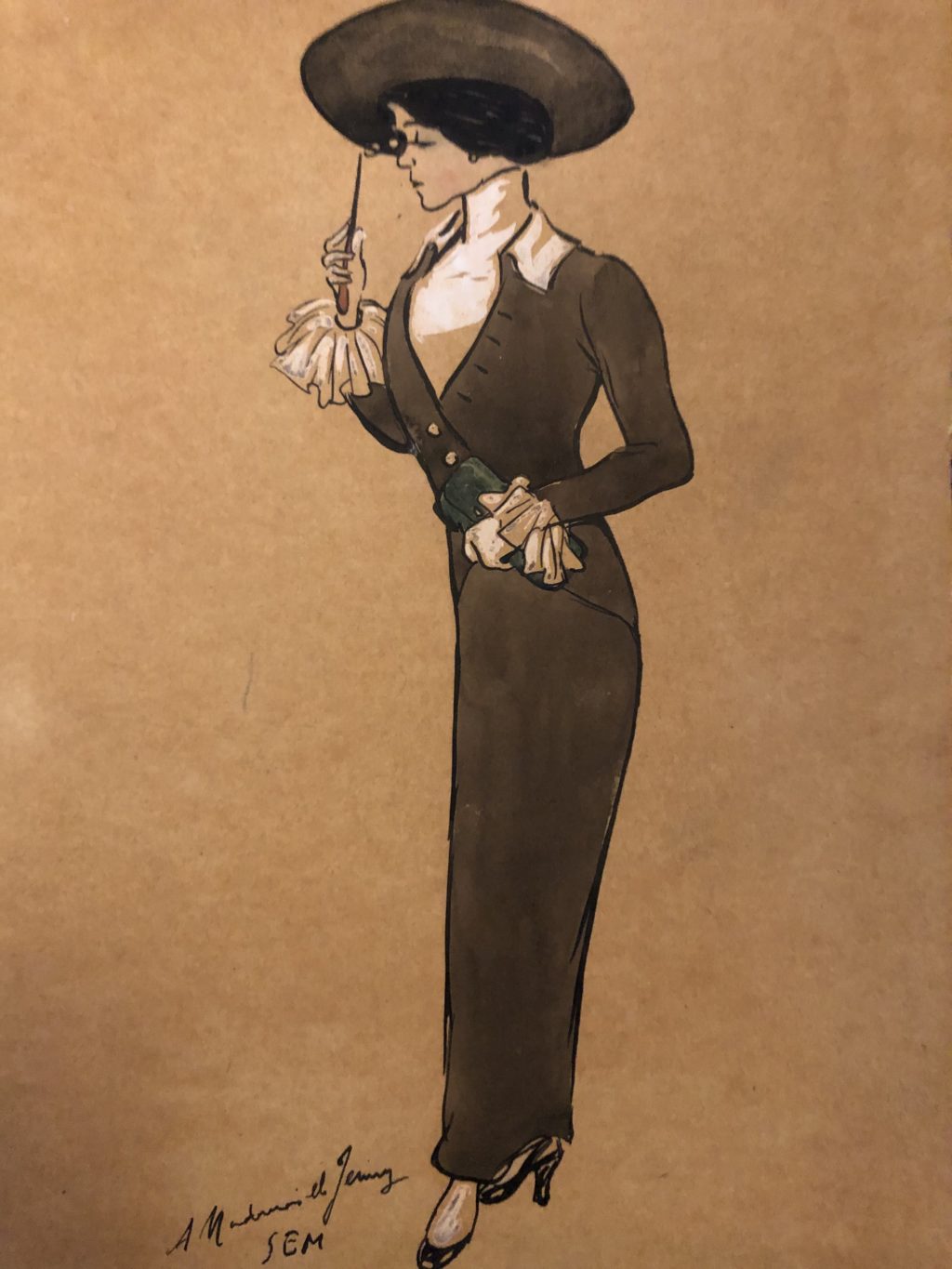 an honest and victorieuse woman...
Jeanne made a point of working with some of the most promising young talent, insisting on designs that were striking yet simple to flatter every silhouette.
She used fashion as a means of expressing patriotic sentiment. Her "Généralissime" coat, for example, was one of her best-selling styles. Her "Jenny's neck" made her the most popular French couturier in the United States. No fashionable Parisienne was without her "little grey suit" from Jenny Sacerdote.
In 1926 she became the second ever woman to be made a Knight of the Legion of Honour, France's highest distinction, for services to fashion. She was also the first couturier, in 1929, to reintroduce the Directoire style, the prelude to a new era that brought her even greater success…
birth of Jeanne Adèle Bernard in Périgueux (Dordogne) 1868
passes entrance exams for the Ecole Normale de Sèvres 1888
business partnership with Marie Le Corre 1908
Jenny et Cie boutique opens at 1, Rue de Castiglione in Paris 1909
marriage to Achille Sacerdote 1909
invents the boat neck, nicknamed "Jenny's neck" 1911
opens a second boutique in Biarritz at 10, Rue des Postes 1913
opens 22 workshops at 70 Avenue des Champs Elysées 1914
invents the "little grey suit" 1915
San Francisco World's Fair and Fête Parisienne in New York 1915
French seamstresses go on strike 1917
presents her largest collection ever with 300 designs 1918
1919 first Parisian collection in the Directoire style
1921 Jenny's designs are the most stylish of all
1922 Jenny Sacerdote is the most talked-about couture house in the press
1923 buys the Bishops' Summer Palace at Château l'Evêque in Dordogne
1925 Pavillon de l'Elégance at the International Exhibition of Decorative Arts in Paris
1926 Jeanne is the second woman to be awarded the Legion of Honour
1928 Grand Prix de l'Elégance
1930 Miss France wears Jenny's designs at the Miss Universe competition in Rio
1933 the business moves to 8, Rue Royale in Paris
1938 sets up a new business, Jenny-Paray, with Lucile Paray
1940 closes her couture house and divorces Emile Sacerdote
1962 Jeanne dies in Nice